Build a Risk Free Bankroll!
Yes, you read that right! It is actually possible to build an income from online poker without risk. The truth is, the online poker industry is highly competitive and sites want to attract more players to sign up. That's why they offer free poker promotions such as free entries and free virtual cash to online poker players.
Poker tournaments come with all sorts of prizes, once a poker player has signed up; it is possible to convert winnings into either cash money deposited in a bank account, further free tournament tickets or free merchandise. Cash prizes are often offered in the hundreds range, but regardless of the sum it is still the best way to start a poker bankroll without risk.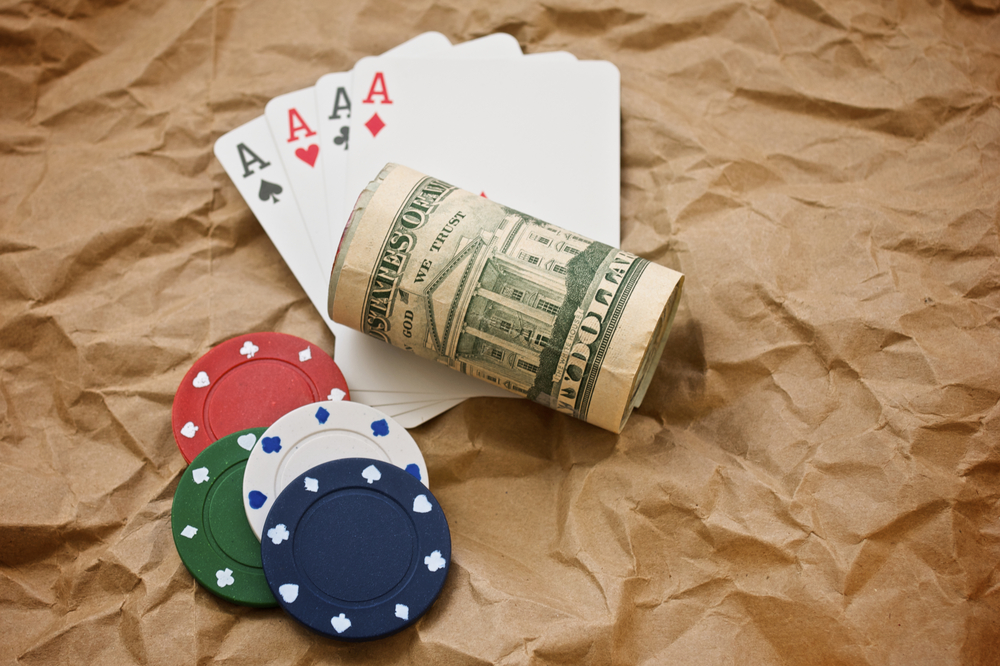 What are free rolls?
In order to take advantage of poker promotions and start a risk free online poker account, its important to understand what poker free rolls are. Poker free rolls have existed for as long as online poker has been known. It is an online poker tournament that allows players to enter at no cost, but offer cash money or real prizes. Hence, the poker player is not liable for any losses and makes the game a free poker game.
Free rolls on professional poker sites are not the same as free poker sites. Social poker sites players can find on social media and mobile apps are free to play and winnings are calculated in chips that have no real monetary value. Whereas poker free rolls allow players to participate in a tournament with real world winnings without 'buy-in' requirements. While both forms of poker can be played for free, only the latter can result in a bankroll or a prize.
Most online poker sites will offer new players free rolls to give them a leg up on their starting balance. They may also include tickets to free tournaments in the free rolls. A lot of professional online poker players started off with free rolls that got them their first pot of gold, from which they built their steady income on online poker tournaments.
Are free rolls really free?
Depending on the circumstances at the time of signing up, the answer could be yes or no. To get an idea on the broad spectrum of conditions, some sites will only offer free rolls to newly registered players, while others may only offer them to loyal players who have played a certain number of hands in a given time period.
To increase the probability of getting poker free rolls , remember to pay attention to the following situations:
Free rolls may be given out on popular poker television shows
Poker bonuses may be accessible on certain listing sites
Poker promotions may be advertised on social media pages by well known poker players
Usually, poker bonuses range from $500 up to $20,000 or above . Some online listings and promotional sites for online poker have given out millions of dollars worth of bonuses over the years.
What are the terms to a poker free roll?
More often than not, poker free rolls are pretty straightforward and easy to take advantage of by looking for the following:
New players on the site that have registered for the first time
Existing players are rewarded with free rolls by playing frequently
Fans of poker sites participating in social media events and contests
Free rolls recurring on a regular basis (weekly or monthly) in return for deposits
Online poker bonuses
Poker bonuses are calculated based on a poker player's initial deposit amount or first wager to pad their starting capital. This is usually credited to the player's account directly once a player is made eligible. Usually, poker bonuses range from 50% to 150% of the deposit amount. Some of the most popular sites even allow players to earn as they play; bonus cash is paid out according to an individual player's wagers to give them an incentive to play.
Understanding how bonuses work
Deposit bonuses are usually stated in percentage terms. For example, if a poker website has a poker promotion of 100% bonus up to $1000, the site's system will automatically match a player's initial deposit at 100% up to the 1000th dollar. In this particular example, the player's account will get a $1 to $1 bonus doubling the initial deposit amount.
How is the poker bonus money released?
Poker bonuses are usually released when a poker player has bet real value money into a tournament or a hand. The website then uses an algorithm to calculate how much a poker player has put into the pot and releases the amount of promised bonus accordingly. We strongly advise online poker players to read the fine print when signing up to avoid disappointment, as some poker websites require very high wager amounts in order for the bonuses to be released to the player.
How to maximize a poker bonus
From a mathematical point of view, it makes sense to make as large an initial deposit as possible in order to maximize the initial deposit bonus in a player's account. Some poker sites even offer poker bonuses on every reload or top up their account. These reload bonuses generally offer lower percentage matching rates but can still help boost a player's account value.
As always, remember to read the terms and conditions carefully to protect your interests and gamble responsibly. Only put as much deposit or reload value into your account as you are comfortable with to keep poker fun.